Secrets of the Trade 创作秘密
(Written by Mette Vanderheide)
2:36Earth is Best – S. Swinburne来自SAS上海美国学校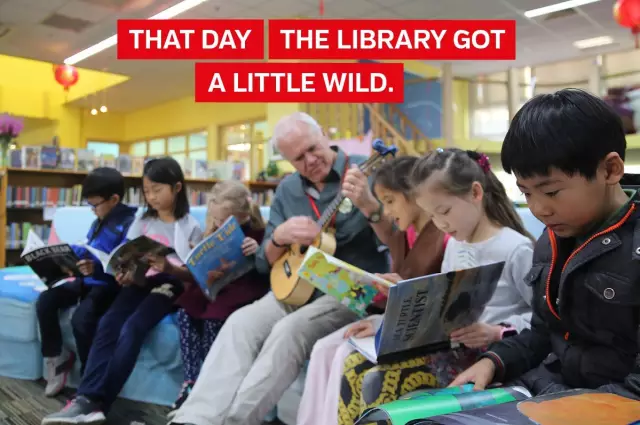 "Keep your eyes open and really look," Steve Swinburne, the visiting author, tells our elementary school students. That's his trade secret—how he comes up with the stories for his non-fiction books about animals. Next up, he shows a slide with a picture of his house. It's covered in snow. He asks the first grade students "What do you see?" They are surprisingly quick to spot a beautiful white owl, blended in amongst the snow-capped trees. That's when he lets them in on another one of his 'trade secrets': in order to be a successful writer, he has to use all five senses, which help him remain in tune with the natural world. That means he has to put his phone and computer down and focus on what is happening around him—outside.
"睁大眼睛看世界。"是访问作家史蒂夫·斯温伯恩(Steve Swinburne)赠予我校小学生的一句箴言,这也是他动物纪实故事书的创作秘密。接着,他向学生们展示了他的住所照片,图中可见房屋上覆盖着一层积雪,这时他转向一年级小学生:"你们都看到了什么?"孩子们出人意料地马上发现了与树顶的积雪融为一体的一只美丽白色猫头鹰,紧接着他又分享了另一个"创作秘密":若想成为一名成功的作家,就必须充分利用五官感受世界,这一方法有利于他适应大自然,但这也就意味着他必须放下手机和电脑,专注于周围发生的事情——外界的一切。
At Shanghai American School, our librarians work year round to not only add to and retain the largest English library in China, but also make sure we bring in some of the most creative authors to talk to and work with our students. Kimbra Power, one of our librarians, told us that our librarians "are approached on a weekly basis by authors and illustrators from all over the world who want to come to SAS." But they don't just accept anyone who wants to come to our school.
"Our authors need to be creative and clever, not just good writers or illustrators. Some authors with best selling books are not naturally charismatic and will not be able to work with our students. Other authors may have written and published some lesser known books, but know how to present with incredible enthusiasm, stories, and research advice." The most important trait about the visiting authors is not awards or being on a bestseller's list (though many of the authors we bring in have these accolades), but that they can provide a valuable and unique example to our students.
According to Mrs. Power, having a wide variety of visiting authors is an "opportunity of a lifetime" for all of our students as it allows our community to connect with people from varied walks of life, with diverse backgrounds and stories to tell.
上海美国学校的图书管理员每年不仅致力于为我们这个中国最大的英文图书馆增添典藏,维护其藏书工作,而且还得确保请来最富创意的作家到我校为学生传业授课,与学生交流。我校图书管理员之一KimbraPower说"每周都有来自世界各地的作家和插画家联系我们的图书管理员想来上海美国学校",但并不是所有人都能如愿以偿,还得经过一番筛选。"我校接受的访问作家必须富有创造力和聪明才智,不能单单是好作家或是插画家。
一些畅销作品的作家并不一定拥有与生具备的吸引学生的魅力,无法和学生有效的交流互动。另一些作家也许出版的书籍量不多或并不出名,但他们知道怎样以非同寻常的方式表达热情、呈现故事并提供研究建议。"访问作家最重要的特质不在于他/她所斩获的奖项,或其书籍是否畅销(尽管我校邀请的许多访问学者均获过此类殊荣),而是能给我校学生树立有价值的、独一无二的榜样。
Power女士表示接触各类访问作家对我校所有学生来说都是"一生难得的机遇",因为这有助于学生群体与来自社会各界的人士接触,了解他们多姿多彩的背景和故事。
One of these diverse and enthusiastic authors, Mr. Swinburne, was recently working with our elementary school students. Mr. Swinburne told us that he "loves to talk with children about research and writing. I give them practical advice. 'Hook the reader! Get it [your story] down and then fix it up!' Those practical things are important. But I also would like to have them learn that they too can follow their dreams. I followed my dreams, even though I thought I could never earn a living as an author. I think it's important to do what you love."
Mr. Swinburne had many jobs before he finally was able to become a full time author. He drove trucks, delivered pizzas, was in a rock band, and even had a stint as a boat captain. But his passion for writing was with him throughout it all. He kept a journal of his journey and discoveries along the way, including all that he was seeing and learning about animals.
斯温伯恩先生就是这热情洋溢的多元化作家群体中的一员,最近由他为我校小学生讲课。斯温伯恩先生表示他"喜欢和孩子们分享研究和写作技巧,我常教给他们实用的建议,告诉他们要'吸引读者!把【故事】写下来之后再进行润色!'这些实用性技巧非常重要。同时我也想让他们学会追逐梦想。我就实现了我的作家梦,尽管我从未想过我能靠写作谋生。做你喜欢的事非常重要。
"在成为全职作家前,他曾经从事过很多工作,包括卡车司机、披萨快递员、摇滚乐队乐手,甚至担任过船长,但他的写作热情从未退却。他一直保持着记日志的习惯,写下他沿途的发现,包括动物的见闻。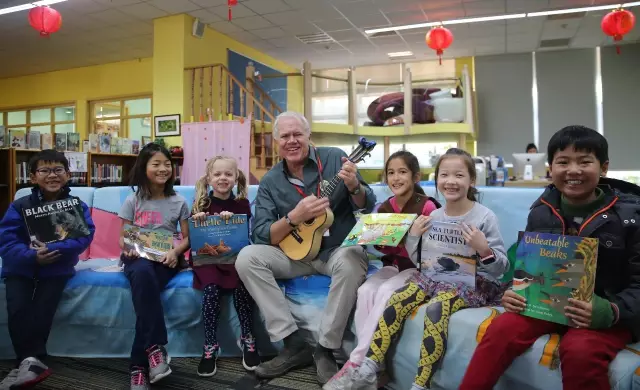 Our elementary students may not have the same opportunities to observe sea turtles, crocodiles, and the other amazing animals that Mr. Swinburne writes about so well, especially in such a large city that has more cement than grass. So how can they come up with great stories? According to Mr. Swinburne they can write excellent stories right here in Shanghai, they just have to grasp the "adventure in your heart," turn it into an "adventure in your head," and then write it down in their journal. The most important thing, he tells them, is for them to tell their own story. "Everyone has a story, it could be about basketball or a birthday party. Or about a friend. Believe in your own story, believe in yourself."
我校小学生可能没有机会去观察海龟、鳄鱼和斯温伯格先生的笔下生动描绘的其他神奇动物,特别是生活在钢筋水泥架构的大城市中而非广阔自然天地中的孩子就更没有这种机会了。那么他们怎样才能创作出精彩的故事呢?斯温伯格先生说,孩子们在上海就能写出好故事,方法就是领会"心中的冒险历程",并把它转化为"脑中的冒险之旅",再写在日志中。他告诉学生讲述自己独一无二的故事至关重要。"每个人都有自己的故事,可以与篮球或生日聚会有关,或与一个朋友有关,你要相信你自己的故事,相信你自己。"
Not all of our students will become authors or illustrators, but it is important for them to be able to learn from and work alongside these incredible professionals. They are not just teaching them about how to write or draw, but how it is possible to be lifelong learners, to act with integrity and compassion in this world, and that they can courageously live out their dreams.
All of our visiting artists (writers, illustrators, mosaic artists, dancers, actors, etc.) live out our mission statement on a daily basis and show our students that the world is truly their oyster—they just need to stop and focus on their dreams and then go out and make it a reality.
不是所有学生都会成为作家或插画家,但重点在于他们能从才华洋溢的专业人士身上获得知识、学习进步。他们不仅向学生传授写作或作图技巧,而且教育他们怎样终身学习以及怎样以正直热情的方式勇敢地实现梦想。
我校所有访问艺术家(作家、插画家、马赛克艺术家、舞蹈家、演员等)每天都在践行着我校的使命宣言,并向学生展示这个世界会正真属于自己只要你能始于专注梦想,继而迈向实现梦想。